. . . . . . . .
The Existing Hudson River Railroad Tunnels. Photo Credit: Amtrak
.
Washington Politics Stalls Critical Hudson River Rail Tunnels
The Gateway Project is regarded as among the most vital infrastructure projects in the U.S. The tunnels now 110 years old were built by the Pennsyvania Railroad to give direct connection to the Pennsylvania Station in New York City being built at the same time. Today, the tunnels are a vital but endangered infrastructure allowing passengers trains to travel between Boston and Washington DC. Rebuilding the tunnels plus constructing the additional new tunnels have been planned for years. President Donald Trump's administration ranks the tunnel near the bottom of 37 rated projects vying for federal mass-transit grants and loans. Proponents of the Gateway Tunnel under the Hudson River blame Trump, who they say has backed away from his predecessor's promises of federal funding and put regulatory hurdles in the project's way.
The purpose of the Project is to preserve the current functionality of Amtrak's NEC service and NJ TRANSIT's commuter rail service between New Jersey and Penn Station New York (PSNY) by repairing the existing North River Tunnel; and to strengthen the NEC's resiliency to support reliable rail service by providing redundant capability under the Hudson River for Amtrak and NJ TRANSIT NEC trains. These improvements must be achieved while maintaining uninterrupted commuter and intercity rail service.
The new rail tunnel is to be constructed so that NEC service can be transferred to it while the existing North River Tunnel is rehabilitated. When completed, the Preferred Alternative would result in transportation benefits, including increased reliability through improved resiliency and redundant operational capability.
Time, salt and traffic. The existing North River tunnel opened in 1910. It is used by Amtrak for its Northeast Corridor service and by NJ Transit for its New York-bound service, and handles about 450 trains, or 200,000 passenger trips, a day. The 2.5-mile (4-kilometer) tunnel consists of two single-track tubes. During Hurricane Sandy in 2012, the tunnel was inundated with corrosive saltwater, bringing mass transit to a halt for days. The tunnel was restored to service, but corrosive substances from the saltwater remain in its concrete liner and bench walls, causing cracks and weakening the power system. . . . . . . Read this complete Bloomberg.com article and the source of this information at: Funding stuck in Washington.
. . . . . . . .
Information Works Inc. P.O. Box 4725, Saratoga Springs, NY 12866 USA email rottoa@gmail.com
Copyright 2020. Website by Richard O. Aichele
Historical & Technical Research and Publishing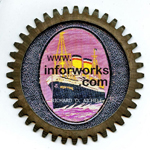 . . . . . . . . . .