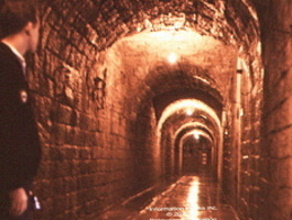 50 years after he served and was wounded on the Great War's (World War 1) Western Front, he was able to return to visit the battlefields in peacetime. He thought about the French, German, British, Australian, Canadian, American and others who were on the battlefields front lines in France and Belgium 50 years earlier serving their countries. Abandoned forts, remains of trenches, battlefields and soldiers' cemeteries still there. As this veteran walked the now quiet battlefields, he often quietly just said, "And for what?" This is his story.
Washington Politics Stalls Critical Hudson River Rail Tunnels
The Gateway Project is regarded as among the most vital infrastructure projects in the U.S. The tunnels now 110 years old were built by the Pennsyvania Railroad to give direct connection to the Pennsylvania Station in New York City being built at the same time. Today, the tunnels are a vital but endangered infrastructure allowing passengers trains to travel between Boston and Washington DC. Rebuilding the tunnels plus constructing the additional new tunnels have been planned for years. President Donald Trump's administration ranks the tunnel near the bottom of 37 rated projects vying for federal mass-transit grants and loans. Proponents of the Gateway Tunnel under the Hudson River blame Trump, who they say has backed away from his predecessor's promises of federal funding and put regulatory hurdles in the project's way.
The purpose of the Project is to preserve the current functionality of Amtrak's NEC service and NJ TRANSIT's commuter rail service between New Jersey and Penn Station New York (PSNY) by repairing the existing North River Tunnel; and to strengthen the NEC's resiliency to support reliable rail service by providing redundant capability under the Hudson River for Amtrak and NJ TRANSIT NEC trains. These improvements must be achieved while maintaining uninterrupted commuter and intercity rail service.
The new rail tunnel is being constructed so that NEC service can be transferred to it while the existing North River Tunnel is rehabilitated. When completed, the Preferred Alternative would result in transportation benefits, including increased reliability through improved resiliency and redundant operational capability.
Time, salt and traffic. The existing North River tunnel opened in 1910. It is used by Amtrak for its Northeast Corridor service and by NJ Transit for its New York-bound service, and handles about 450 trains, or 200,000 passenger trips, a day. The 2.5-mile (4-kilometer) tunnel consists of two single-track tubes. During Hurricane Sandy in 2012, the tunnel was inundated with corrosive saltwater, bringing mass transit to a halt for days. The tunnel was restored to service, but corrosive substances from the saltwater remain in its concrete liner and bench walls, causing cracks and weakening the power system. . . . . . . Read this complete Bloomberg.com article and the source of this information at: Funding stuck in Washington.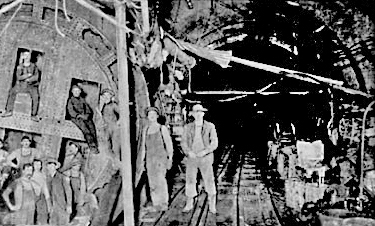 The first railroad tunnels under the Hudson River were completed in 1908 and are still in service. Known to riders as the Hudson Tubes for the first fifty years and one of the first mass transit projects connecting New Jersey and New York City they remain a story of innovations, dedication, failures and finally the total success.
. . . . . . . .
Questions, answers and theories. The U.S. Navy now requires pilots to report any UFO encounters and will possibly make that information public. The onservations by the Kepler have uncovered possible alien worlds in the Milky Way. Researchers believe Arcturus, the third brightest star in the night sky, may have an orbiting planet with advanced life. In 1954, a large object that became known as the Black Knight was detected in polar orbit years before man had the technical ability to launch any large man made objects into space orbit.
. . . . . . . .
What Will We Discover During Mars Explorations ?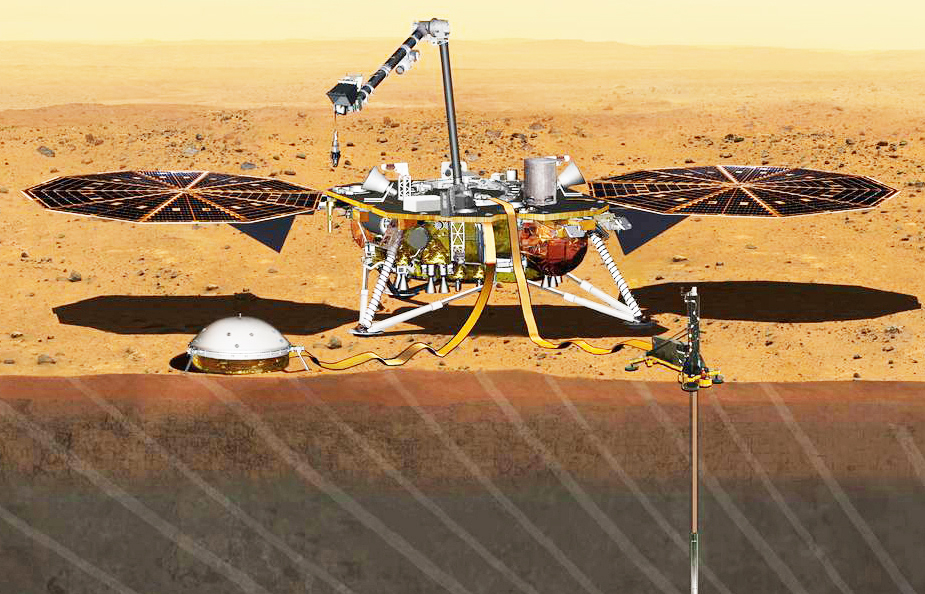 "This artist's concept depicts the InSight lander on Mars after the lander's robotic arm has deployed a seismometer and a heat probe directly onto the ground. The official name of the program is the Mars Interior Exploration using Seismic Investigations, Geodesy and Heat Transport. InSight is the first mission dedicated to investigating the deep interior of Mars. The findings will advance understanding of how all rocky planets, including Earth, formed and evolved," according to NASA.
According to NASA, the goal of InSight once on Mars is to "study the planet's interior by measuring its heat output and listen for marsquakes. InSight will use the seismic waves generated by marsquakes to develop a map of the planet's deep interior. The resulting insight into Mars' formation will provide a better understanding of how other rocky planets, including Earth, were created."
Good at NASA explained, "One key way InSight will peer into the Martian interior is by studying motion underground -- what we know as marsquakes. NASA has not attempted to do this kind of science since the Viking mission. Both Viking landers had their seismometers on top of the spacecraft, where they produced noisy data. InSight's seismometer will be placed directly on the Martian surface, which will provide much cleaner data.Scientists have seen a lot of evidence suggesting Mars has quakes. But unlike quakes on Earth, which are mostly caused by tectonic plates moving around, marsquakes would be caused by other types of tectonic activity, such as volcanism and cracks forming in the planet's crust. In addition, meteor impacts can create seismic waves, which InSight will try to detect."
. . . . . . . .
Is Galatic Space Life Possible ?
"One great leap toward the possibility of life, including intelligent life, in the universe," said UC Berkeley astronomer Geoffrey Marcy, who worked on a new study published Monday in the Proceedings of the National Academy of Sciences. The new planetary study used the Kepler space telescope, NASA's primary planet-hunting tool l to gather the data over several years. A Nov. 4, 2013 Los Angeles Times Newspaper article explained, "Since its launch in 2009, Kepler has helped uncover a "bewildering variety" of alien worlds throughout the Milky Way, said William Borucki, lead scientist for the Kepler mission at NASA's Ames Research Center in Mountain View, Calif. Many in this strange menagerie — which includes mini-Neptunes and super-Jupiters — are not like any of the planets in our solar system. Some distant planets may be composed entirely of water; others have densities greater than iron or lower than Styrofoam."
The Drake Equation is important because it considers a variety of Milky Way factors including the estimated 100 billion stars, number of stars with planetary systems, how many planets would be able to sustain life, how much life would be intelligent life and of those how many could communicate. A source calculated there were possibly as many as 10,000 Intelligent Civilizations in the Milky Way. It is also still important because it opens scientific discussions about the likelihood of other life out there.
Fifty six years later, in 2016 an updated analysis of the Drake equation provided a new layer of understanding of possible far off civilizations. Marc Dantonio, Exoplanet Researcher, in a A Huffington Post article. explained the new analysis "doesn't make the Drake obsolete but instead creates another 'new edition' that helps us predict the probability of detecting other civilizations," The expanded knowledge of space in those 56 years due improved technologies and man's journeys into space have enhanced the Drake Equation concepts. He reported that a 'new edition' equation study by Sara Seager, astrophysicist and planetary scientist at the Massachusetts Institute of Technology, concluded, "our galaxy alone has between 100 and 400 billion stars. So on the low end of the estimate of only 100 billion stars her analysis predicts just over 6.5 million possible civilizations and at the higher end estimate of 400 billion stars in the galaxy, 26 million possible systems with intelligence are predicted.
What does this all mean? It means, significantly, that science is on the side of those who suspect that there is other reasonably intelligent life in the Universe."
______________________
Information Works P.O. Box 4725, Saratoga Springs, NY 12866 USA email rottoa@gmail.com
Copyright 2020. Website by Richard O. Aichele
Historical & Technical Research and Publishing
. . . . . . . . . .