Ultimately, the words of Hermann Oberth spoken over half a century ago should be acknowledged:
"We cannot alone take credit for our record advancements in certain scientific fields. We have been helped, and we have been helped by the people of other worlds."

-2- Reported UFO / UAP Encounters
"Wow, What Is That?"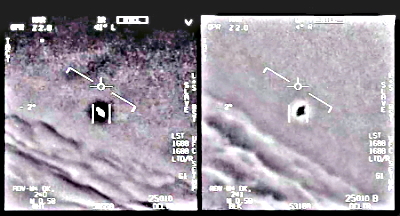 "I almost hit one of those things," a pilot from the U.S.S. Theodore Roosevelt with a look of shock on his face just back from a mission told Lieutenant Graves. He and his wingman had been flying in tandem about 100 feet apart over the Atlantic Ocean east of Virginia Beach when something flew between them, right past the cockpit. It looked to the pilot "like a sphere encasing a cube."
Lieutenant Graves said he was stunned to hear the pilot's report, and the video showed, the object accelerating to hypersonic speed, making sudden stops and instantaneous turns. It was something beyond the physical limits of a human crew. Lieutenant Graves noted, "Speed does not kill you. Stopping or acceleration does." Asked what they thought the objects were, the pilots refused to speculate. "We have aircraft that can fly at 30,000 feet and right at the surface but have not combined all that in a vehicle of some type with no jet engine, no exhaust plume." Lieutenant Accoin said only that, "we are here doing a job, with excellence, not making up myths." The incident that occurred in 2014 was finally declassified and the video released in 2019 according to the May 27, 2019 New York Times newspaper's article: Wow, What Is That?
USAF Jet & Crew Vanished After UFO Encounter. 1953 &nbsp
The F-89C Scorpion fighter jet and its two man crew from the 433rd Fighter Interceptor Squadron at Kinross Air Force Base, Kincheloe, Michigan vanished on November 23, 1953 after it scrambled and pursued a ground radar contact over the area of Sault Ste. Marie, Michigan. The ground radar operators had directed the F-89C towards the object. As the F-86C closed in on the object at an altitude of about 8,000 feet, radio contact with the fighter was lost but radar operators still tracked the air force plane and the unidentified object as two radar screen blips. The blips merged as they came closer to each other until there was only a single blip as the object continued on its previous course. An intensive search by both the U.S. Air Force and the Royal Canadian Air Force never found any trace of the crew, the F-86C, or any wreckage.
USAF Ordered Pilots To Destroy Large UFO May 1, 1957
In 1957, two US Air Force fighter planes jets hastily took off with orders to shoot down an aircraft carrier-sized UFO detected by ground based radar over East Anglia, England. "The instructions came to go 'gate' to expedite the intercept. Gate was the term used to use maximum power (in the case of the F86-D that meant full afterburner) and to proceed to an Initial Point at about 32,000 feet. By this time, my radar was on, and I was looking prematurely for the bogey... . Aware that he was reaching the upper limit of his jet's capabilities, Torres requested to come out of the afterburner, but ground control denied his request. At that time, he prepared to execute the order to "fire a full salvo of rockets at the UFO." The F-86D carried 24 rockets that contained the power of a 75mm artillery shell.
Suddenly, Torres noticed that the object on his radar screen was moving. He was left with the impression that the UFO was moving at no less than Mach 10 (over 7,000 miles per hour) when it disappeared. According to Torres, the UFO "didn't follow classic Newtonian mechanics. It made a right turn almost on a dime. The (Royal Air Force radar) scope had a range of 250 miles. And after two sweeps, which took two seconds, it was gone. And I was flying almost at Mach 1." He returned to the base and was debriefed the next day by an unnamed man who "looked like a well-dressed IBM salesman. He threatened me with a national security breach if I breathed a word about it to anyone," Torres said.
Torres said he had been waiting for 50 years for an explanation. "I shall never forget it. On that night I was ordered to open fire even before I had taken off. That had never happened before." Torres said he is convinced the UFO he had encountered was designed by an "alien" intelligence and was not manufactured on Earth. He also noted: "It was some kind of space alien craft. It was so fast, it was so incredible it was absolutely death-defying."
In 2008, fifty one years after this UFO incident, the UK Ministry of Defence (MoD) finally began disclosing the secret files concerning UFO/UAP phenomena that had been hidden. The astonishing incident, which was revealed in the MoD files, happened over East Anglia, England.
Royal Air Force - Shot At UFOs 1980s
In Britain, Royal Air Force pilots have apparently fired upon the unidentified objects without success since the 1980s, according to Nick Pope, former head the Ministry of Defence's UFO project. There was a faction in the Ministry of Defence who said "We want to shoot down a UFO and that will resolve the issue one way or another. We know of cases where the order has been given to shoot down - with little effect to the UFO," according to the Daily Telegraph Reporter newspaper in England on January 26, 2009.
French Mirage IV Supersonic Nuclear Bomber Encounters UFO 1977
French Air Force military aircraft's UFO encounter on March 7, 1977 at 08:34pm. Major Rene Giraud had engaged the auto pilot of a Mirage IV supersonic nuclear capable bomber with Captain Jean Paul Abraham as navigator. Returning from a night navigation exercise to the fRENCH Air Force base of Luxeuil in the region of Chaumont, Haute Marne, flying at an altitude of 9750 meters aT a speed of 1000 kilometres per hour, under excellent visibility conditions, the crew saw a gleaming light identical to the signalisation headlight of a Mirage III jet fighter coming toward it. The ground controller said there was absolutely nothing there and that thing was not a plane, Giraud gently started to turn to the right and it remained inside the turn. Giraud said, "It stuck to my trajectory. We banked sharply and the object pacing us at less than 1 km in our back. This lasted 40 seconds! We slowed the turn down, and this thing left at an unbelievable speed! 30 seconds after taking the direction to the Air base again, He turned very sharply to the right after having put the engines at full thrust. The object plays the same game again and it comes very near." Giraud had an impression of a shape and large mass behind us that was much larger than the Mirage. Abraham tried to take photographs while Giraud slightly reversed a turn and the object went towards the West with a fantastic acceleration, producing some sort of a trail. Giraud said, "When we landed at Luxeuil, we were shaken." Source: The 1999 COMETA REPORT.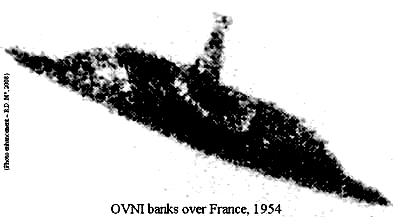 The Belgian UFO Storm November 1989
During a period of several weeks, over 140 UFO sightings by hundreds of local inhabitants began on November 29, 1989 over eastern Belgium. All reports were identical that a triangular shape craft approximately 120 feet long on each side traveled very slowly before departing at a high speed. Belgian authorities conducted over 650 investigations of witnesses. On March 30, 1990 another large triangular shaped UFO was seen by a police captain, was detected by two radar installations and two Belgian Air Force F-16 fighter planes that unsuccessfully attempted to intercept it. The UFO was able to easily climb, descend and out maneuver the slower less-agile F-16s. What became known as the Belgian UFO Storm continued into April with continuing incidents. Near Glons, Belgium another UFO triangle shape craft moved slowly over the countryside when it was detected by five different radar sites. F-16 jets were sent up but the UFO speed and maneuverability again quickly left the jet fighters behind.
French Farmer Faced UFO Aliens July 1, 1965
The Gendarmerie Nationals investigated an incident reported by Maurice Masse, a French farmer in Valensole, AIpes-de-Haute-Provence, France. At 6:00, Masse heard a hissing sound in a nearby farm field. He saw an object reminiscent of the shape of a "Dauphine" automobile resting in the field approximately 90 meters from him. It was standing on six legs with a central pivot. He approached it with caution and then saw two small beings one of whom turned in his direction, pointed a tube at him that he took from a bag hanging on his left side. Masse indicated that he was then totally immobilized in place, numbed and paralyzed, but completely aware of the events that were unfolding before his eyes. The two beings then got back in their craft. He watched them while they were behind a sort of dome, and he heard a heavy noise when the object lifted up off the ground. He also remarked that the tube that was under the object, touching the ground, began to turn, as well as the six legs, which retracted under the machine. The object then ascended in a vertical direction before tilting diagonally and disappearing more rapidly than a jet. Maurice Masse remained immobilized in this manner for about 15 minutes before coming to. Two gendarme brigades confirmed the effect on the environment and on the witness himself, who slept twelve to fifteen hours a night, followed by the paralysis of which he had been a victim, for several months."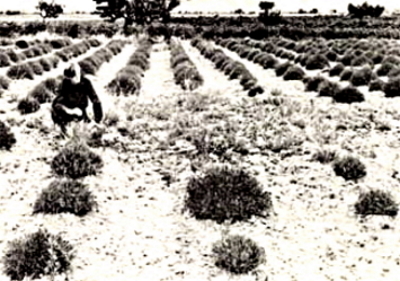 At the site, the Digne investigations squad established the existence at the spot indicated by Masse, of a depression impressed into the ground, which had been soaked in that place. In the center of it was a cylindrical hole 18 cm in diameter and 40 cm deep with smooth walls. At the bottom of the hole were three other bent holes 6 cm in diameter. Along the object's axis of flight, over some one hundred meters, the lavender beds were dried up. This phenomenon lasted for several years, during which time the Masse tried in vain to replant the plants within a radius of several meters around the tracks. Source: The 1999 COMETA REPORT.