Space Visitors To Earth
by Richard O. Aichele
"Wow, What Is That?"
A 2019 U.S. Navy announcement included a short video of space craft kept secret for five years. The event in 2014 was of a U. S. Navy pilot flying a Super Hornet twin engine fighter from the aircraft carrier U.S.S. Theodore Roosevelt. It was one of many apparent aerial UFO encounters that pilots experienced still kept secret.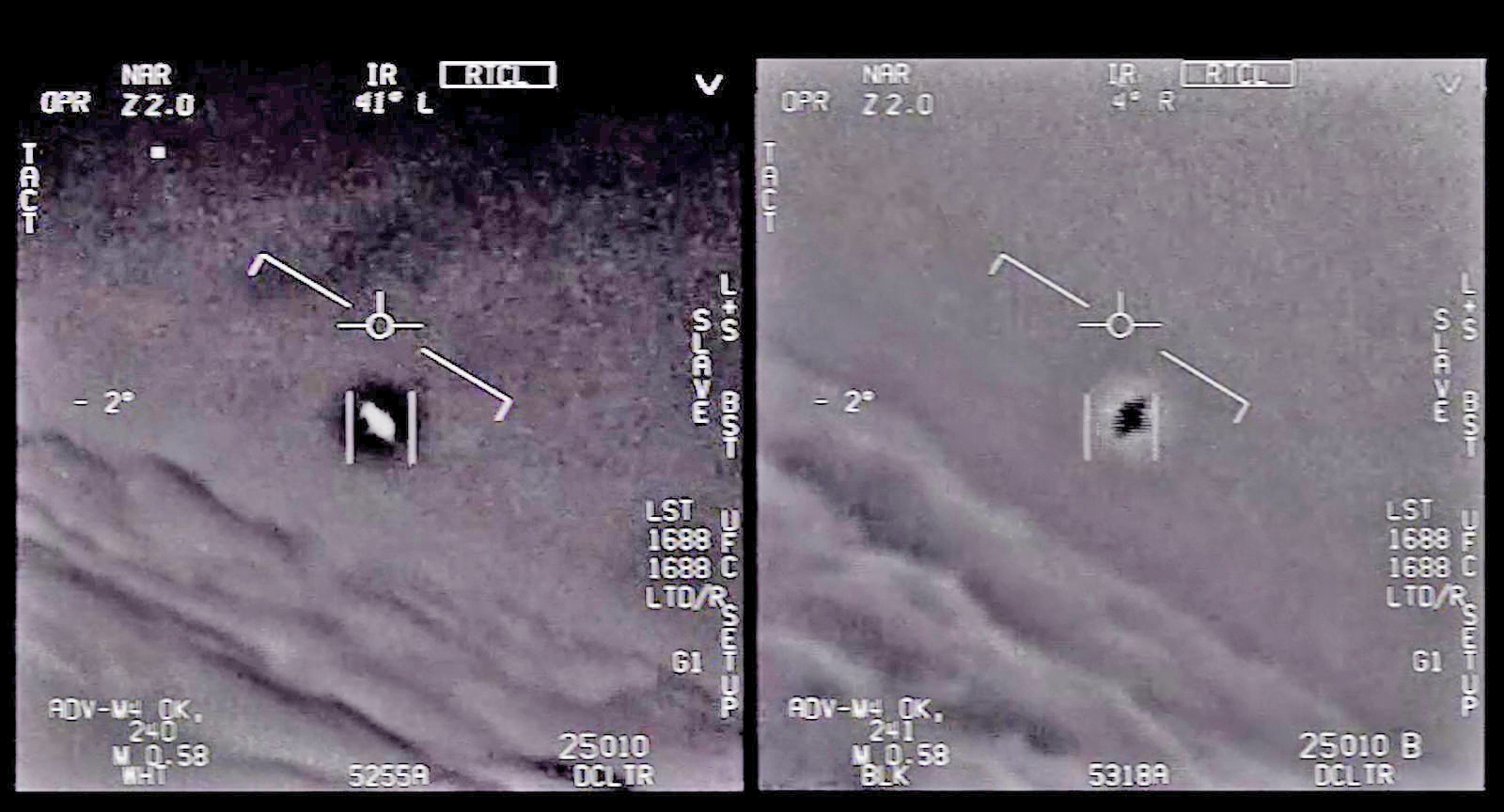 "In late 2014, Lieutenant Graves said he was back at base in Virginia Beach when he encountered a squadron mate just back from a mission 'with a look of shock on his face.' He said he was stunned to hear the pilot serving on the U.S.S. Theodore Roosevelt: 'I almost hit one of those things,' the pilot told Lieutenant Graves. The pilot and his wingman were flying in tandem about 100 feet apart over the Atlantic east of Virginia Beach when something flew between them, right past the cockpit. It looked to the pilot, Lieutenant Graves said, like a sphere encasing a cube.

What was strange, the pilots said, was that the video showed objects accelerating to hypersonic speed, making sudden stops and instantaneous turns was something beyond the physical limits of a human crew. "Speed does not kill you," Lieutenant Graves said. "Stopping does. Or acceleration." Asked what they thought the objects were, the pilots refused to speculate... "We have aircraft that can fly at 30,000 feet and right at the surface but have not combined all that in a vehicle of some type with no jet engine, no exhaust plume." Lieutenant Accoin said only that, "we are here doing a job, with excellence, not making up myths," according to the May 27, 2019 New York Times newspaper's article, Wow, What Is That?

Unexplained UFO Incidents

The F-89C Scorpion fighter jet and its two man crew from the 433rd Fighter Interceptor Squadron at Kinross Air Force Base, Kincheloe, Michigan vanished on November 23, 1953 after it scrambled and pursued a ground radar contact over the area of Sault Ste. Marie, Michigan. The ground radar operators had directed the F-89C towards the object. As the F-86C closed in on the object at an altitude of about 8000 feet, radio contact with the fighter was lost. The ground radar operators tracked the air force plane and the unidentified object as two radar screen blips on their radar screen. The blips seemed to merge as they came closer to each other but then there was then only a single blip and the object continued on its previous course. An immediate search and rescue operation by both the U.S. Air Force and the Royal Canadian Air Force was not successful. No trace of the crew, the F-86C, or any wreckage was ever found.

A major French government UFO study known as The COMETA REPORT, published in 1999, included a number of aircraft related UFO incidents as well as other personal UFO encounters.

Included in the study is an incident of a French Air Force military aircraft's UFO encounter on March 7, 1977 at 08:34pm. "Major Rene Giraud had engaged the auto pilot of a Mirage IV supersonic nuclear capable bomber with Captain Jean Paul Abraham as navigator. They were returning from a night navigation exercise to the Air Force base of Luxeuil and were in the region of Chaumont in the department of Haute Marne, flying at an altitude of 9750 meters and a speed of Mach 0.9, under excellent visibility conditions. That evening, in command of the Arbois bomber squadron, I have just carried out a night flight exercise on board a Mirage IV bomber with my navigator, Captain Jean-Paul Abraham. We return to Luxeuil at an altitude of 9750 meters and at an approximate speed of 1000 kilometres per hour. We are above Chaumont when a gleaming light arrives toward us. It is identical to the signalisation headlight of a Mirage III jet fighter. Does the controller radar of Contrexeville sleep? The object continues to approach, on the same level than us It is not normal, he should remain below. I warn the ground controller, but he says to me that there is absolutely nothing. And that thing approaches It is not a plane, it is not a missile. I gently start to turn to the right. And it remains inside my turn, stuck to my trajectory. At once, I bank sharply. This object is straight forwardly pacing us at less than 1 km in our back as taking position to shoot us down! It flies much more quickly than me And this will last 40 seconds! There is absolutely nothing I can do. I slow my turn down, and this thing leaves at an unbelievable speed! 30 seconds after I had taken the direction of the Air base again, I say to my navigator: Careful, that thing will come back! I feel that I am being observed! I turn very sharply to the right after having put the engines at full thrust. The object plays the same game again. And there, it come very near. I have an impression of a shape and large mass behind us, much larger than my Mirage. Jean-Paul tries to take photographs. I slightly reverse my turn and the light goes again towards the West with a fantastic acceleration, producing some sort of a trail. When we landed at Luxeuil, we were shaken."

COMETA Report Includes Personal Alien Encounters

The Gendarmerie Nationals conducted an in-depth investigation at Valensole, AIpes-de-Haute-Provence, France on July 1, 1965, "Maurice Masse had headed for his lavender fields at around 6:00 a.m.. He heard a hissing sound that attracted his attention. He saw an object resting in his field approximately 90 meters from him. It's shape was reminiscent of that of a "Dauphine" automobile standing on six legs with a central pivot. He approached it with caution at a distance thinking he might surprise people about to steal his lavender from him. He then saw two small beings one of whom was turned in his direction, pointed a tube at him that he took from a bag hanging on his left side. Masse indicated that he was totally immobilized in place, numbed and paralyzed, but completely aware of the events that were unfolding before his eyes. The two beings then got back in their craft. He watched them while they were behind a sort of dome, and he heard a heavy noise when the object lifted up off the ground. He also remarked that the tube that was under the object, touching the ground, began to turn, as well as the six legs, which retracted under the machine. The object then ascended in a vertical direction before tilting diagonally and disappearing more rapidly than a jet. Maurice Masse remained immobilized in this manner for about 15 minutes before coming to, then resuming his work and then going to the village where the gendarmes questioned him.

The Gendarmerie Nationals in-depth investigation at Valensole then the Digne investigations squad established the existence at the spot indicated by Masse, of a depression impressed into the ground, which had been soaked in that place. In the center of it was a cylindrical hole 18 cm in diameter and 40 cm deep with smooth walls. At the bottom of the hole were three other bent holes 6 cm in diameter. Along the object's axis of flight, over some one hundred meters, the lavender beds were dried up. This phenomenon lasted for several years, during which time the witness tried in vain to replant the plants within a radius of several meters around the tracks. Two gendarme brigades confirmed the effect on the environment and on the witness himself, who slept twelve to fifteen hours a night, followed by the paralysis of which he had been a victim, for several months."

Among well known UFO incidents are the over 140 UFO sightings by hundreds of local inhabitants that began on November 29, 1989 over eastern Belgium. All reports were identical that a triangular shape craft approximately 120 feet long on each side traveled very slowly before departing at a high speed. Belgian authorities conducted over 650 investigations of witnesses. On March 30, 1990 another large triangular shaped UFO was seen by a police captain, was detected by two radar installations and two Belgian Air Force F-16 fighter planes unsuccessfully attempted to intercept it. The UFO was able to easily climb, descend and out maneuver the slower less-agile F-16s. What became known as the Belgian UFO Storm continued into April with continuing incidents. Near Glons, Belgium another UFO triangle shape craft moved slowly over the countryside when it was detected by five different radar sites. F-16 jets were sent up but the UFO speed and maneuverability again quickly left the jet fighters behind.

The Geography of Space

It is known that just within the Milky Way that includes our Earth there are more than 100 billion stars. Proceedings of the National Academy of Sciences published study in 2013 found 11 Billion Earth like planets in the Milky Way with the closest only 12 light years away. Beyond are more than sixteen observed galaxies with many other stars. Among them, there are great possibilities of numerous ET Extraterrestrial Intelligent Civilizations.

At a NASA meeting on July 14, 2014 that included discussions on other life outside out solar system, NASA Administrator Charles Bolden, a former astronaut, said "it is improbable that in the limitless vastness of the universe we humans stand alone." That view from NASA hs not changed. In January 2021, the latest interpretation of new measurements taken by the NASA New Horizons spacecraft put the numbers of galaxies in our universe in the hundreds of billions. Since each individual galaxy may contain a number of planets, the number of places in the universe possibly containing life is almost beyond comprehension.

'One great leap toward the possibility of life, including intelligent life, in the universe," said UC Berkeley astronomer Geoffrey Marcy, who worked on a new study published Monday in the Proceedings of the National Academy of Sciences. The new planetary study used the Kepler space telescope, NASA's primary planet-hunting tool to gather the data over several years. A Nov. 4, 2013 Los Angeles Times Newspaper article explained, 'Since its launch in 2009, Kepler has helped uncover a "bewildering variety" of Extra-Terrestrial worlds throughout the Milky Way, said William Borucki, lead scientist for the Kepler mission at NASA's Ames Research Center in Mountain View, Calif. Many in this strange menagerie which includes mini-Neptunes and super-Jupiters are not like any of the planets in our solar system. Some distant planets may be composed entirely of water; others have densities greater than iron or lower than Styrofoam.

The Drake Equation

The Drake Equation is important because it considers a variety of Milky Way factors including the estimated 100 billion stars, number of stars with planetary systems, how many planets would be able to sustain life, how much life would be intelligent life and of those how many could communicate. A source calculated there were possibly as many as 10,000 Intelligent Civilizations in the Milky Way. It is also still important because it opens scientific discussions about the likelihood of other life out there.

In 2016, an updated analysis of the Drake equation provided a new layer of understanding of possible far off civilizations. Marc Dantonio, Exoplanet Researcher, in a The Huffington Post article. explained the new analysis 'does not make the Drake obsolete but instead creates another new edition that helps us predict the probability of detecting other civilizations. The expanded knowledge of space in those 56 years due improved technologies and mans journeys into space have enhanced the Drake Equation concepts. He reported that a new edition equation study by Sara Seager, astrophysicist and planetary scientist at the Massachusetts Institute of Technology, concluded, our galaxy alone has between 100 and 400 billion stars. So on the low end of the estimate of only 100 billion stars her analysis predicts just over 6.5 million possible civilizations and at the higher end estimate of 400 billion stars in the galaxy, 26 million possible systems with intelligence are predicted. What does this all mean? It means, significantly, that science is on the side of those who suspect that there is other reasonably intelligent life in the Universe.

Dr. Frank Drake as one of the leaders in technically exploring spece, joined the National Radio Astronomy Observatory in 1961. At the Search for Extraterrestrial Intelligence conference (SETI) in 1961, he demonstrated his formula of a complex set of mathematical calculations to estimate the number of intelligent communicating civilizations possible in just the Milky Way galaxy. The Drake work is primarily directed toward detecting and sending radio signals for direct communication. Any planetary radio signals detected today on earth could have been traveling for unknown light years.

Earthliing UFO Politics, Skeptics and Fear

The first official U.S. government UFO study called Project SignProject Grudge in 1949 followed by the U.S. Air Force's Project Blue Book in December 1952. At the conclusion of Project Blue Book in 1969, the study listed 12,618 sightings and ended concluding there was "no evidence indicating that sightings categorized as unidentified are extraterrestrial vehicles." After years of silencing any news of UFO encounters by the U.S. Navy, the Navy changed course in May, 2019 and announced new rules that their flight crews must file official reports of any UFO actvity. That news was viewed by some observers as an indication the U.S. government had never stopped investigating UFOs after Project Blue Book ended but had just become more secretive than previously.

In some Earth countries including the United States at this time, the official positions takes the form of saying, There is no proof that any other life is out there and has visited earth. Meantime, they are keeping any details and any UFO debris secret as classified information. Other countries including France, Belgium, Denmark, Canada and Chile have opened their UFO files. In the U.S., the Roswell affair still seems to be part of an an official cover-up. Another example cited by www.ancient-code.com is: "In 1963, Gordon Cooper was launched into space. On his final orbit, he reported seeing a glowing green object in front of his capsule in the distance moving towards his Spacecraft. The Muchea tracking station, in Australia, which Cooper reported the object to, picked up this Unidentified object on Radar traveling East to West. NBC reported this, but after Cooper had returned to Earth, the Reporters were not allowed to ask Cooper about the unidentified object. The official explanation given for Cooper's sighting report was: "High levels of carbon dioxide which caused hallucinations."

Someday The Decision: To Fear or Welcome Alien Beings

In any discussion about UFOs and Other Beings from other worlds, a common concern on Earth is: Are they friendly? Perhaps for the Other Beings, the concern is: Are the Earth beings friendly?

In Britain, Royal Air Force pilots have apparently fired upon the unidentified objects without success since the 1980s, according to Nick Pope, who used to run the Ministry of Defence's UFO project. There was a faction in the Ministry of Defence who said "We want to shoot down a UFO and that will resolve the issue one way or another. We know of cases where the order has been given to shoot down - with little effect to the UFO," according to the Daily Telegraph Reporter newspaper in England on January 26, 2009.

May 17, 2022 U.S. Congress Investigates UFOs

At the opening of the one day Congressional UFO Hearing, chairman Rep. Andre Carson criticized the Pentagon for failing to name a director to head the newly established Airborne Object Identification and Management Synchronization Group and for failing to provide any updates. Deputy Director of Naval Intelligence Scott Bray stated that the number of "frequent and continuing" reported sightings had grown to about 400 since last year's mandated report. He cast out the notion that the UFOs had extraterrestrial origins, testifying that no organic/inorganic material or unexplainable wreckage indicated so.

Under Secretary of Defense for Intelligence and Security Ronald S. Moultrie stated that most UFOs could be identified through "rigorous" analysis and investigation, but pointed out a number of incidents that defied explanation, such as a 2004 sighting where aircraft carrier pilots in the Pacific came across a hovering unidentified object that appeared to have rapidly descended tens of thousands of feet. Moultrie told lawmakers that they did want "potential adversaries to know exactly what we see or understand.

Lawmakers were shown declassified images and footage of UFOs, including a video of a UFO observed by a Navy fighter-jet pilot in 2021, a "spherical object" that "quickly passes by the cockpit of the aircraft." Another video captured triangular objects (speculated to be drones) floating off the coast as seen through night-vision goggles.

The public portion of the hearing, held in the morning and lasting less than 90 minutes, was followed by private classified session in the afternoon.

Leading paranormal investigator and UFO skeptic Robert Sheaffer stated that he "didn't expect much from the hearings" and that he was not disappointed. He also derided the "ridiculous" footage shown at the hearing, saying: "They show this as some of their best evidence, and we are supposed not to laugh?

The above information sourced and quoted from https://en.wikipedia.org/wiki/2022_United_States_Congress_hearings_on_UFOs

Spacecraft Technologies

Science and Open Minds Have Discovered Many Answers

Over 100 years ago, the development of those necessary propulsion technologies to reach the moon was underway. Hermann Oberth, (1894 - 1989) who would later be recognized as Germany's Father of Astronautics, was a young scientist who began creating the basics of space travel technologies. In 1917, Oberth first proposed the concept of liquid-fueled long-range missiles. That was followed by his feasibility studies of a multi-stage rocket with sections cast off as they became unnecessary. In 1922, while studying mathematics and physics at the University of Heidelberg, his dissertation of rocket designs was rejected by less forward thinking academic scholars. He came to accept the existence of UFOs, interstellar intelligence and aliens. During Oberth's early career in rocket propulsion he correctly predicted that "Rockets... can be built so powerfully that they could be capable of carrying a man aloft." During World War 2, Oberth and Werner von Braun were the key members of the team that created the V-2 Rockets and later working in the U.S. he was involved with the development of the Saturn-V rocket that carried men the moon.
Throughout Oberth's career he recognized the reality that man's technology levels are far below the technologies of the Aliens and their UFOs. "We cannot produce machines that fly the same as UFOs do. They are flying by means of artificial fields of Gravity. This would explain the sudden changes of directions. This hypothesis would also explain the piling-up of these discs into a cylindrical or cigar-shaped mothership upon leaving the Earth."